This weekend, the 2012 Formula 1 season hits it's climax at the Brazilian Grand Prix at Interlagos and the title will be decided between smug, whiny bitch Sebastian Vettel and eyebrow extraordinaire Fernando Alonso. However, attentions are already turning to the 2013 season and the biggest news is that Lewis Hamilton is leaving McLaren, the team who has supported him since he was just thirteen.
Lewis Hamilton at McLaren
Earlier this season, Hamilton announced that he was joining Mercedes and ending his long-standing association with the Woking-based team. The reason cited by Hamilton was that he wanted a new challenge and more freedom for sponsorship and other things. This is interesting given that his management company is the same one that orchestrated David Beckham's move to LA Galaxy several years ago. Of course, we can't forget that Hamilton's manager was his own dad before ending the professional relationship. Anthony, Lewis' dad has his own company and manages racing drivers, including Force India's Paul Di Resta.
This surely means that Lewis' career managers were behind the move, since they had the most the gain from it. There's no way you can say it's to get a better car, since the Mercedes is struggling at this moment in time. That's not to say they won't improve for next year but given Hamilton won the last race at the new US circuit in Austin last time out and is looking good in Practice at Interlagos at the time of writing, you have to question the real motives of this moves.
Hamilton's current team-mate at McLaren, Jenson Button, believes that his not-for-much-longer team-mate is making a mistake. Button said that "He has chosen to go his own way at the end of the year. It is his decision, although I personally don't think it is the right decision," and Jenson will know the Mercedes team better than anyone if you think about it. Given that had driven for them for quite a number of years in several guises: BAR, Honda and then the one season wonder Brawn GP.
Jenson Button driving the Brawn GP car which won both 2009 F1 championships
For years, even with the backing of Honda, who are rumoured to be returning to the sport, potentially as the engine supplier to McLaren, the team struggled to make real headway and only won one race as Honda in 2006 with Button behind the wheel. Ironically, had Honda stayed in the championship in 2009 they would have won both championships since Honda funded the development of the Brawn GP car which gave Button his Driver's Championship glory. Though that car was only as competitive as it was because they abandoned development of the 2008 car which was a total dud. To their credit, Mercedes have won a race this year, in China, and it was German shampoo model Nico Rosberg who gave them their first victory since they bought the team at the end of 2009. It was Nico's first and only F1 victory as well.
Not even the legend Michael Schumacher (pictured) can save the Mercedes F1 team from midfield mediocrity so far.
Since Button's comments, Hamilton has refuted any notions of regret at agreeing to join the Silver Arrows. Hamilton has said "What I do have is a huge amount of love for the (McLaren) team. Leaving is always a tough decision and these last couple of races will be tough. "I'm happy I've got a new challenge ahead of me. I've got to build new relationships with people. Everyone does that in life so I don't know why I can't do it."
However, the Team Principal at McLaren, Martin Whitmarsh, does believe that Hamilton is regretting signing on the dotted line to join BAR-Honda Mercedes, saying that he believes his reasons are that he has been offered more money and that Hamilton feels he has to 'flee the nest' so to speak. However, neither have ruled out Hamilton rejoining the team one day. That itself is a bit odd since you never hear drivers saying that they'd one day like to rejoin the team they're about the leave. Whitmarsh did go on the record and say that he would "h

ave him back, yes".
"So let's hope it's just a gap year."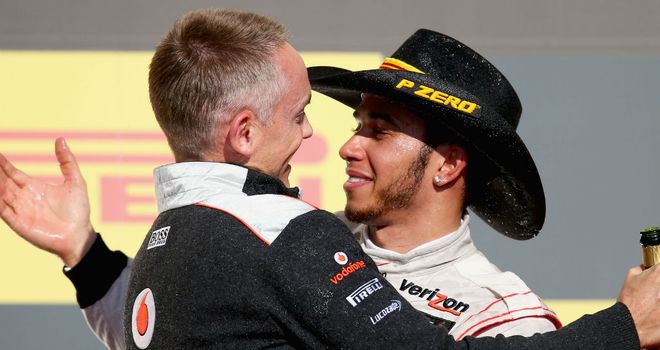 For the last time? Hamilton and Whitmarsh celebrating the victory at the 2012 US Grand Prix
Could we see Hamilton rejoining McLaren after three, or maybe even just a single year at Mercedes if things don't go too well?
It has happened of course. A driver rejoins the team he left for 'a new challenge'. The most recent example is Fernando Alonso, who in 2005 announced that he was joining McLaren from the all conquering Renault team of 2005-6. This only lasted for one year, despite him signing on for three years at McLaren. Alonso returned to Renault for 2008 and endured mediocrity for two years before joining Ferrari.This was down to him having his eyebrows ruffled by the new kid on the block, Lewis Hamilton. Annoyed at this and not being the Schumacher-esque dominator he had hoped, he sabotaged his own and Hamilton's chance of winning the F1 title, allowing Kimi "Leave me alone, I know what I'm doing" Raikkonen to win the championship by a single point.
Will Hamilton rejoin McLaren at some point? I think he will, it's just a case of when to be honest. McLaren have signed Sauber's Speedy Gonzalez Sergio Perez to replace him at McLaren and he is an exciting prospect and one to look out for next year for certain. I think it's more likely Hamilton will return when Button decides to hang up the helmet whenever that is. He's not getting any younger.
In and out. Lewis Hamilton and Sergio Perez.
Only time will tell what happens but whatever the case. It's going to be exciting as hell to watch and that can only be a good thing.